Click Here to Schedule Your Service Appointment!
Miracle Ford is the Only Place to Go for Ford Service in Gallatin, Hendersonville, Mount Juliet, Lebanon or Portland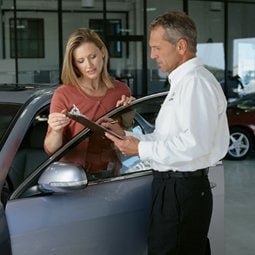 We all know that in order to get the best out of our vehicles, it means taking care of it. We here at Miracle Ford not only provide you with new and used vehicles, but also a full service center that meets the repair and maintenance needs for all your vehicles here in Gallatin, TN, and when you stop in for service with us, you'll get a thorough and comprehensive job completed by our highly-trained staff.
That's because we have team members who have years of experience working on Ford and other vehicles when it comes to repairs, and our service center has the latest technology, equipment, while we only use the finest auto parts to get the job done and diagnose any potential issues. You can count on us for Ford auto repair, because of the resources at our disposal, and the best way to ensure your Ford runs at its highest quality is to see the people who know how to work on your vehicle best.
That runs the spectrum from engine repair and other big repairs for your vehicle like body shop work, but also, we make sure that the simple maintenance is taken care of, too. Whether it's an oil change, tire rotation, transmission work, wheel alignments and balancing, and other standard maintenance, we're here to do it, and in a timely manner so you can continue to enjoy the drive without waiting for your vehicle to be serviced all day. Learn more about our services below.
Regular Service and Repairs Performed by Miracle Ford Technicians in Gallatin, TN
Oil Changes
You know your vehicle needs oil changes to run properly, but did you know why you need to change that oil? Throughout its lifetime your car's engine will accumulate sludge and debris, engine oil helps to separate these harmful substances and remove them. Here at Miracle Ford we can ensure your engine oil gets removed and replaced with fresh fluid to promote engine health.
Oil Leaks
Surely you've seen a dark spot on a driveway or parking lot left from a puddle of oil, not only is that a pain to remove it also means you might have an oil leak. Oil is essential to keep your engine running properly, and a leak can cause your fluid to run low causing all sorts of issues. So, if you spot some oil left behind your vehicle, visit our trusty technicians, and they'll diagnose the issue and fix your vehicle up.
Brake Replacement
You know brakes are important, they're your primary safety system in your vehicle. Although, brakes wear down and if you start to hear squealing or feel vibrations while braking you might need brake service. Here at Miracle Ford, you can put your confidence in our technicians to get you the brake pads, rotors, discs, and drums you need to be safe on the roadways in Gallatin, TN.
Tire Rotation and Replacement
Tires keep you driving confidently throughout Hendersonville and Mount Juliet, but their tread inevitably wears down. To help your tires wear at an even pace tire rotation is necessary. Whether you're looking for a new set of tires or need your current ones rotated and balanced, our team of technicians can have you in and out of the shop quickly.
Battery Replacement
Somewhere between four and six years you will likely need to replace your car, truck, or SUVs battery. Having a solid power source in your vehicle prevents you from ending up stranded on the side of the road. If you're in need of a new battery for your Ford truck or SUV, visit our service center, and we'll handle it for you.
Ignition Issues
Is your vehicle having some trouble starting? It could be the battery, or it could be any component of the ignition system. Our technicians can help you identify and fix the ignition issue for your vehicle quickly.
Coolant System Flush
This important system keeps your engine running at optimal temperatures throughout the year. Every few years you'll need to flush and refill the system to ensure your antifreeze solutions are potent. Our service center can handle the hassles of coolant system flushes for you when you schedule an appointment.
A/C System Repairs
The air conditioning system of a vehicle is sealed, but it isn't always perfect. From time to time bumps and strenuous vehicle use can cause leaks. This causes hot air to blow from your vents leading to uncomfortable cabin conditions. If you're trying to beat the heat in Lebanon, schedule an appointment with our A/C technicians.
Fuel System Repairs
If your vehicle is over 50,000 miles, you need a new filter, or an injector cleaning you might need service. Consider the helping hands of our technicians; they can help find the issues and get you back on the road in Portland.
Transmission Repairs and Replacements
If you're having transmission issues that spells bad news for driving. Our talented technicians are more than capable of helping with transmission repairs and maintenance and are ready to help you through this problem.
Click Here to Schedule Your Service Appointment!
Needless to say, we have you covered for car and truck repair here in Gallatin along with the Hendersonville, Mount Juliet, Lebanon, and Portland, TN areas and are here for all your Ford service needs. If you have any questions or would like to schedule an appointment with us, feel free to reach out today, and make an appointment online, or via phone and we'll be sure to provide you with top-notch repair and maintenance on your vehicle soon!